THE NEW PARKWAY THEATER is a community-centered cinema and pub located in Oakland's Uptown district. Sit back and relax in our cozy couches while watching our new releases, cult classics, and fabulous special programming. Plus, enjoy yummy food and local beer and wine in our café or even delivered right to your theater seat all at affordable prices! Here's what's playing in your second living room:
Showtimes for Saturday, January 19, 2013
MADAGASCAR (New Parkway Family Classics) (2005)
IMDB
Spoiled by their upbringing with no idea what wild life is really like, four animals from New York Central Zoo escape, unwittingly assisted by four absconding penguins, and find themselves in Madagascar, among a bunch of merry lemurs
CHASING ICE (Doc Night at The New Parkway) (2012)
IMDB
Admission Price:
$6
Come see CHASING ICE this week and we've got complimentary tickets to some or all of the four screenings. Interested? Read on:
COMPLIMENTARY TICKETS!
Opening this weekend at The New Parkway: See the Sundance award-winning film CHASING ICE (NOMINATED FOR AN OSCAR for Best Original Song, "Before My Time", featuring Scarlett Johansson and Joshua Bell). A limited number of tickets, on a space-available basis, are being purchased for our most loyal fans and supporters while supplies last. Visit this link below and use the
Group Code "TNP"
to request your tickets. Confirmations will be emailed approximately 24 hours prior to your requested show. Seats are not guaranteed through this program until you receive your email confirmation. Quantities are limited and confirmed tickets are not transferable to other dates, times, or shows.
Please find additional details and submit your request
here
.
You can also
Purchase Tickets Online
.
Follow National Geographic photographer James Balog across the Arctic as he deploys time-lapse cameras designed for one purpose: to capture a multi-year record of the world's changing glaciers.
Showtimes:
12:15pm, 2:15pm
IMDB
A young man who survives a disaster at sea is hurtled into an epic journey of adventure and discovery. While cast away, he forms an unexpected connection with another survivor: a fearsome Bengal tiger.
Showtimes:
1:15pm, 7:15pm, 10:15pm
IMDB
A love story between influential filmmaker Alfred Hitchcock and wife Alma Reville during the filming of 'Psycho' in 1959.
IMDB
Pete and Debbie are both about to turn 40, their kids hate each other, both of their businesses are failing, they're on the verge of losing their house, and their relationship is threatening to fall apart.
Showtimes:
6:30pm, 9:15pm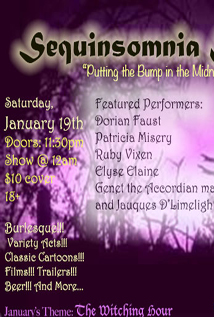 Admission Price:
$10
Purchase Tickets Online
Sequinsomnia is a monthly midnight burlesque show featuring some of the hottest live performance acts of the Sf Bay Area and beyond. See unique films and vintage cartoons you love on the big screen! Hoot and howl at midnight! Sequins, wacky, evening apparel encouraged but you won't be turned away in just PJ's.
Curated by Francine Dead.