This Week's Showtimes

(Make sure you're on the right day)
Showtimes for Monday, October 30, 2017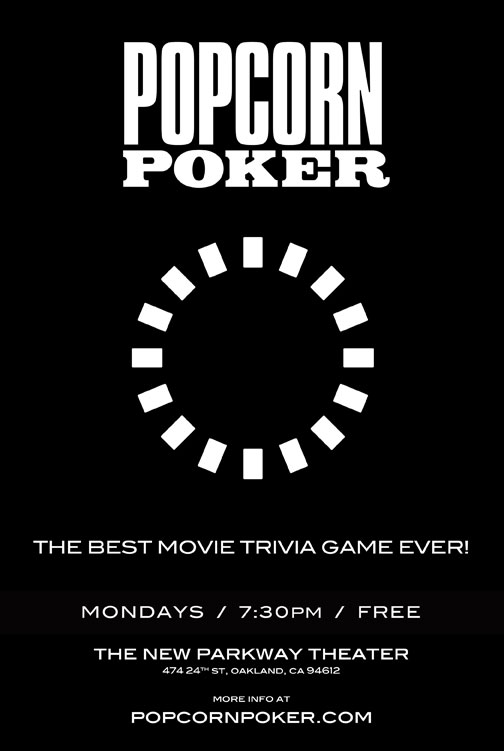 POPCORN POKER, free on the Mezzanine!
It's part movie trivia game show, part social tour de force. Two teams enter the popper, only one team pops to greatness. Bet and bluff your way to victory, make new frenemies, and remember all the movies you've forgotten with your host David Macarchick. There will be prizes!
8:00pm
See Why People Love the New Parkway
Free & Fun Activities
The New Parkway Theater offers free evening activities every day of the week on our Mezzanine in the café. Join us for good food, good drink, and a good dose of community. All ages are welcome.
What people are saying
They need to have theaters like this in every city! Wish there were places like this in Los Angeles and all over. Way to go, New Parkway. I hope they branch out.

Milla G.

Los Angeles

I literally just returned from this theatre and my enthusiasm can barely contain itself. As someone who went to school for film/currently works in film, I applaud anything that reinforces the magic and communal experience of going to the movies.

May I.

Berkeley

Truly a unique experience! After visiting The New Parkway for the first time last weekend, my boyfriend and I decided this is the only theater we will go to when we see movies.

Lisa S.

Alameda

This is definitely Oakland's best-kept secret, and probably my new favorite getaway.

Davina K.

San Leandro

Stellar. Comfy. Delicious. Real. This makes me never want to enter a mainstream movie theatre again.

Mimi S.

Oakland